Explore Our Pellet Brands
---
Harman pellet stoves deliver powerful, high-efficiency heating.  Different models provide an ideal heating option for any space. Harman's advanced appliances use technology to burn any grade of pellet with even heat and precision control.
Performance 
Every Harman pellet product packs serious heat, extremely accurate temperature control and very simple maintenance.
Engineering Excellence
Harman pellet products are created with premium quality, innovative home-grown technology and attention to detail. Harman understand the statement you want to make in your home, and are proud to help provide it.
*Contact The Woodway for pricing and availability.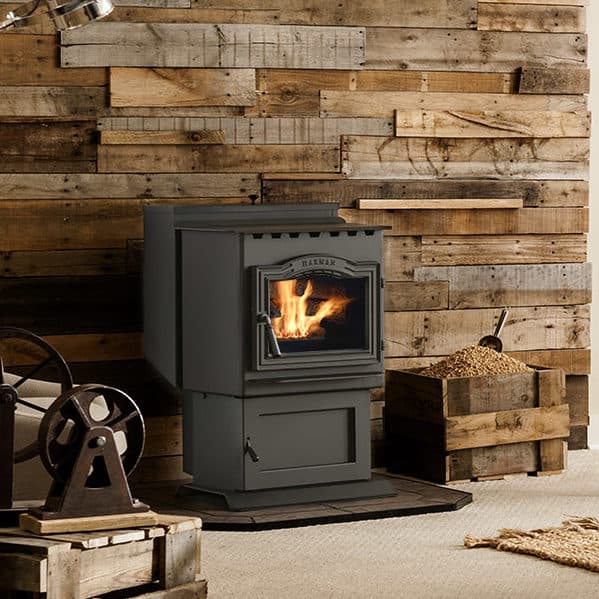 Quadra-Fire pellet stoves offer a clean-burning, eco-friendly home heating alternative. Available in a wide assortment of models and units, Quadra-Fire has the perfect pellet stove for your home.
Advanced Energy (AE) technology is a combination of efficient engineering and easy operation in Quadra-Fire pellet appliances. AE delivers strong, economical heating performance with:
• A 7-day programmable thermostat constantly monitors heat levels and automatically controls five heating levels
• An exclusive, computer-controlled feed system for consistent heat
• Quiet, variable-speed DC blower motors with battery backups and computer controls
• A patented auto-clean system providing hands-free cleaning and continuous burns
• The ability to burn multiple fuels—from wood pellets, to grain, to sunflower seeds.
.
*Contact The Woodway for pricing and availability.
The Lopi AGP Pellet Stove offers all the benefits of wood heating plus fuel that is clean, compact and easy to use.
Deerfield
The Deerfield is the QUIETEST and SIMPLEST pellet stove to operate and live with! The Deerfield combines beautiful European castings with next generation technology and optimum performance to bring you a revolutionary, 'best-in-class' pellet stove. Super quiet operation is achieved from a unique cast Ultra Iron Fan and sound dampening components. Lopi's award-winning TouchSmart Control Panel is seamlessly integrated into the glass fuel loading door and is very user-friendly. This stove is designed to burn all grades of wood pellet fuel and features a large 60-lb. hopper for long burn times between refueling.
.
*Contact The Woodway for pricing and availability.